Running a business is a whirlwind of decision-making, future forecasting, managing employees, and always being on the lookout for new opportunities. As a business owner, you have a lot on your plate and can often push important tasks such as developing a perimeter security plan to the back burner until disaster strikes. You can think you are saving time or money by putting off your security needs because "we haven't had a break-in yet," however crime can happen anywhere. If it does, you'll be losing a lot more than just what is stolen.  
In Q1 of 2022, cargo theft losses amounted to $19 billion, a 73% increase over the same period in 2021 – CargoNet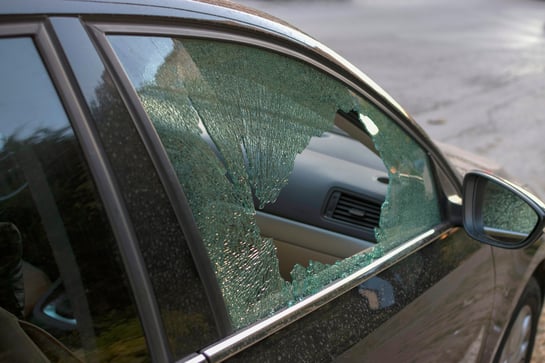 Break-ins cost your business more than you think
Not worried about break-ins because you have insurance to cover the cost of stolen property? When a crime occurs at your business, you lose much more than the monetary value of what is stolen. One of the biggest mistakes a business owner can make is focusing purely on the cost of physical assets while underestimating the indirect costs of crime, including:
Downtime costs – When a crime occurs at your location, operations are likely to cease or slow down until police can conclude their investigation. There is time lost while employees regain focus, damage to your building/vehicles/equipment is repaired, and stolen property is replaced. Not to mention, some equipment can take several weeks to recover.
Reputational damage – Do you want your business to be seen as unreliable?  Theft can affect deadlines and delivery services time. Or in some cases, allowing damage to your customer's property while in your hands. The reputational damage your business will suffer will last long after your stolen property is replaced. 
Employee retention – Being adjacent crime victims can have negative impacts to your employees' psyches. You may find yourself struggling to hire and keep workers if they feel unsafe at the workplace or worry that their vehicles or property are at risk of being stolen at your location.  
71% of commercial property thieves will target the same location again if they are successful the first time
Insurance will not always save you 
Companies often rely on commercial property insurance to cover anticipated losses. But when insurance doesn't cover your entire loss amount because it exceeds insurance coverage or because you've experienced several theft incidents throughout the year, you'll be paying those costs out of pocket.  
It is also common to forget to budget for the increased cost of insurance after a claim is filed. A single large insurance claim can raise premiums by as much as 20% . When your insurance company sees your business as a greater risk, they will raise your premiums accordingly.
A single large insurance claim can raise premiums by as much as 20%.
The reality for business owners is that just filing three claims in one year can nearly double the cost of your insurance. Relying on insurance is not a sustainable long-term solution, as businesses that do this are quickly priced out of being able to afford coverage.
It's more affordable to be proactive about crime rather than reacting to disaster
When it comes to preventing the cascading financial effects of theft-based losses, it's more economical to budget for securing your property than rolling the dice and hoping you can recover after thieves strike.
Securing your perimeter with adequate security fencing, lighting, video surveillance, and more helps you enjoy peace of mind. It also offers you the benefit of fixed-cost budgeting — you know what you'll pay for security, but the total price you'll pay for a break-in is a roll of the dice.  When it comes to your business, keeping the revenue machine rolling while preserving your peace of mind is easily the best investment you can make.
How much will it cost to secure your perimeter?
Schedule your complimentary Threat Assessment today. We'll show you what your security weaknesses are and develop a proactive approach to stopping crime at your location before it stops you.
The Ultimate Perimeter Solution
AMAROK™ is the ultimate perimeter security solution because it deters thieves, so there is no need to deal with the aftermath of a crime. AMAROK deters criminals in three ways; a shock deterrent, a physical deterrent, and an alarm deterrent. Installing the Electric Guard Dog system is an effective way to prevent cargo theft at your business.
About AMAROK™
AMAROK™ is a  full-perimeter security company  based in Columbia, South Carolina, that provides commercial security services throughout the United States and Canada. Specializing in electric fencing and perimeter security systems for commercial properties, AMAROK also provides supplemental surveillance solutions, including cameras, lights, and alarms. Together, these business security services form the ultimate crime prevention solution for any business. 
Why FORTIFEYE™?
Even though professional monitoring speeds police response time, criminals may still be able to breach your perimeter and enter your property. That's why AMAROK developed FORTIFEYE™ – the world's first integrated electric security fence, video surveillance, and video monitoring solution to create the ultimate crime prevention solution for your commercial business or industrial site.

For more information, or to get a quote contact us.